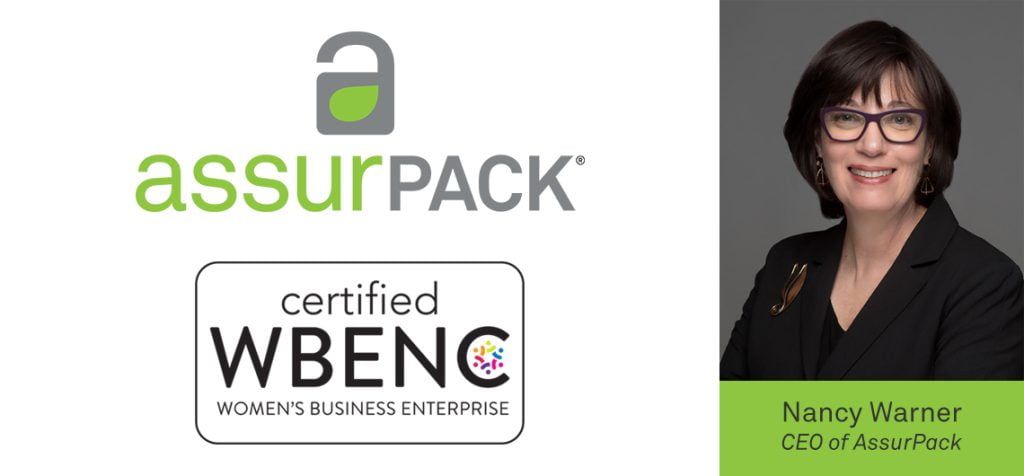 AssurPack® is proud to be a certified women-led business through the Women's Business Enterprise National Council or WBENC.
What is WBENC?
WBENC was founded in 1997 to develop a nationwide standard for women-owned business certification. The organization is the largest certifier of businesses owned, controlled, and operated by women. The organization is the largest advocate for women-owned businesses in corporate and government supply chains in the USA.
As a 501(c)(3) non-profit, WBENC partners with 14 Regional Partner Organizations to provide a world-class standard of certification to women-owned businesses throughout the country. offers programming and resources to help women-owned businesses thrive.
What is WBENC certification?
WBENC Certification is the most respected and widely recognized national certification for women-owned businesses in the United States.
To become certified, women business owners undergo a thorough vetting process, including review of business documentation and a site visit.
This thorough and detailed examination process ensures WBENC Certification is the gold standard for women-owned business certification. It validates that a business is at least 51 percent owned, controlled, operated and managed by a woman or women.
WBENC world-class certification is accepted by thousands of corporations representing America's most prestigious brands, in addition to many states, cities and government entities.
How did AssurPack® become a WBENC-Certified Women's Business Enterprise?
AssurPack® was fortunate to be included in the first Women Grow Supplier Diversity Virtual Bootcamp Powered by Trulieve. This bootcamp is meant to support women in business who are looking to broaden your reach of opportunities. Trulieve has been one of the leaders in Cannabis Supplier Diversity. They have a robust program and the goal was to educate more businesses about these programs. Together, Women Grow and Trulieve built a 4-week program. At the end of this program, AssurPack® CEO, Nancy Warner, submitted the application to WBENC for certification, saying, "I am grateful to both Women Grow and Trulieve for their support and encouragement during this process. It is quite an accomplishment to be the first certified women-led business in the cannabis industry."
Who leads Women-Led Cannabis Packaging Company, AssurPack®?
Nancy Warner, CEO
Nancy is considered a leader in child-resistant packaging through her extensive career in cannabis and pharmaceutical packaging innovation, development and supply chain. She has comprehensive knowledge of packaging components, compliance, processes and equipment systems.
With 30 years of packaging product development experience, Nancy founded AssurPack®, a cannabis packaging company, in 2014. AssurPack® has enabled cannabis brands to safely launch their cannabis products by providing customized, compliant, award-winning cannabis packaging.
Nancy has served as a Chairperson of the NCIA Packaging and Labeling Committee and is a current member of the ASTM Cannabis Committee.
Tedi Weitekamp, VP Package Development
A packaging engineer, Tedi is considered an expert in package design and is professionally recognized as an authority in dispensing systems and packaging manufacturability assessments.
With over two decades of experience as a manager in global packaging development, leading hundreds of packaging launches from design through final consumer packaging, Tedi places special emphasis on improving end-user experience via accessible, yet compliant, cannabis packaging.