Cannabis Packaging Automation: 5 Things to Know Before You Automate
February 16, 2021
As you've grown your sales volume, your cannabis packaging dynamics have probably changed.
Rather than two employees in the backroom folding boxes, you now have eight — except for the days when one of them calls in sick and the rest of the crew stays late.
Intuitively, you know packaging automation is the answer.
As of 2021, the cannabis industry rarely employs automated packaging. A few MSOs have the funding for pharmaceutical-style packaging lines and automatic weighing systems, but, for the most part, cannabis companies are in the pre-automation stage. But things won't stay that way for long.
What is Cannabis Packaging Automation?
As the industry matures, we expect to see more automation, but what does "automation" mean, exactly?
Yes, automation can entail fully automated rooms of conveyor belts and bottles. But more likely, your equipment would be a semi-automated man/machine hybrid, and you'd implement changes sequentially.
An example of a semi-automated packaging system is a tablet filling machine. The machine fills the package with the correct number of tablets and an employee closes the lid. The machine eliminates a common source of human error; the employee fulfills a task that can be difficult for a machine.
Packaging SOPs can be divided into many simple sub-tasks. In essence, you'll need to fill the container accurately, shut it, and label it. Sometimes you'll need to prepare the container too, either by folding or opening it.
Which of these subtasks is the best for you to outsource, depending on your unique situation? A packaging consultant can help you decide. They can also assess whether you're ready for automation.
If you think you're ready to automate, you're probably seeing these five dynamics crop up on the packaging side of your operation, it may be time to invest in automation.
#1 You Have HR Problems and High Turnover
As you scale, you may discover that your packaging crew can't keep pace with your sales orders. And you'll know intuitively that a chronic lack of bandwidth can only be satisfied by late nights and overtime pay for so long.
Moreover, a chronically stressed staff will create HR issues that you didn't have when you were a smaller company. Turnover is inevitable when employees perform repetitive tasks at relatively low wages, and, when the packaging demands are escalating, they'll feel as stressed as you do.
If you're experiencing call-outs and no-shows, it's a sign that your human resources aren't in good mental health. So, rather than mount up the treadmill of constant hiring, consider calling an automation consultant to lessen the load.
#2 You Need to Meet Regulations

Depending on your state regulations, you may need a track-and-trace label on your packages. If that's your situation, an automated labeler could be a good investment.
The task of labeling packages with a two-dimensional barcode is tedious, repetitive, and simple — making it a perfect candidate for an automated system.
Custom labeling requires some degree of automation anyway because an inkjet printer is already in the workflow. When you add the ability to run the package directly through the printer — or run the package by a labeler — you eliminate a nagging labor cost.
Serialization can prevent counterfeiting and provide other benefits too, making it an attractive first step for automation.
#3 You Anticipate Growth
The industry is growing overall, but some markets are growing more than others. And some companies are growing more than others.
If you have realistic plans to expand — plans that are complete with a marketing strategy, financial backing, and retail channels — it's time to automate, regardless of other factors.
An expansion into new facilities is also a trigger for automation. And if you're in a position to expand your sales across state lines, that's a sign too.
#4 You've Found a Winning Package
Automate your packaging line when you feel confident about your packaging. When you have a package that your customers like, one that's recognizable and brand-sustaining.
Not all child-resistant packages work well with automation systems. The extra steps sometimes needed to close the package may require expensive, sophisticated tooling. At the increased cost and complexity, it often makes sense to automate elements of the packaging process rather than design automation from A to Z.
AssurPack® offers several CPSC-certified packages that work well with automation. Our most automation-friendly products include the SecurSlide®, AssurCard®, AssurPouch®, and AssurClam®.
#5 You're Looking Long-Term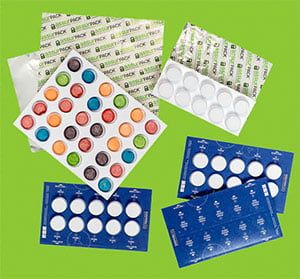 When you're plotting your future, it's a good time to envision how your packaging strategy can grow with you.
Planning for multi-state expansion? Hoping to be acquired? You'll want to look at your cash flow timing.
A packaging expert can help you anticipate how your capital expenditures will pay back over time. With new equipment, you'll definitely see reduced operating costs based on your investment, but there may be hidden costs of maintenance or hidden savings from reduced waste.Think sequentially when planning changes to your packaging line. You don't want to invest in equipment that you will go by the wayside as you invest in more equipment later.
If it fits your product aspirations, you may want to integrate your packaging and production. Technologies such as the AssurCard® direct-pour system allow you to mold chocolates and gummies directly in the blister pack. When you combine AssurCard® with equipment that pours hundreds of edibles at a time, your production time drops dramatically.
What to Do Next
Talk with an expert. There's an entire discipline of knowledge devoted to designing packaging workflows. It's not as simple — or at least it shouldn't be as simple — as buying a filling machine from a manufacturer at a tradeshow.