Child-Resistant Cannabis Packaging Technologies and Testing
July 15, 2020
The cannabis industry is driving demand for innovative child-resistant packaging solutions — and with good reason. Emergency rooms across the country are seeing an increased number of cases of child poisonings from toxic doses of products . Marijuana medicines often take the form of baked goods and candies, so it's only natural that young children are attracted to these infused products.
So, how do we limit risks to kids while ensuring patients have access to effective medicines? Moreover, how can we adapt pharmaceutical packaging technologies for cannabis packaging — without making packaging unattractive or frustrating to open?
At AssurPack, we apply our 100+ years of package engineering experience to bring you compliant packaging solutions for your infused and edible products. In this post, we explore the types of packaging that are best for cannabis and how certified testing agencies assess packaging to make sure it meets safety standards.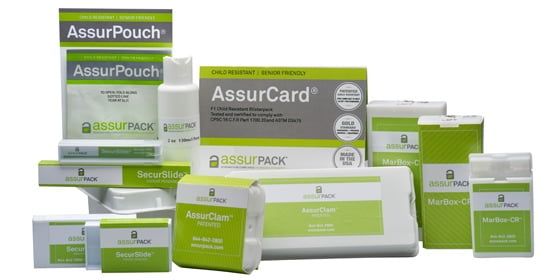 What is Child-Resistant Cannabis Packaging?
Child-resistant (CR) packaging for marijuana products is designed for the most stringent standards of safety. Because cannabis remains federally illegal, most states use the Consumer Product Safety Commission (CPSC) standards that are required for products deemed toxic to children.
Testing Packaging at an ASTM-Certified Agency
To figure out just how robust a CR packaging solution needs to be, the U.S. Consumer Product Safety Commission (CPSC) has established the risk posed by different medications. The amount of the medication that could cause serious illness in a 25-pound child is the determining factor for testing which CR packages can meet the safety standards for that medication.
Every manufacturer must determine the toxicity of their own products to choose which child-resistant rating applies. The fall back is to use an F=1 rated package. The F=1 rating is the highest level of compliance and works with all products — with or without toxicity studies.
A third-party agency — which is certified by ASTM International — applies the CPSC's guidelines to test the packaging. The guidelines state that a group of 50 children be given ten minutes to attempt to open the package. If the package features unit dose servings, such as a blister pack, they count how many units the children are able to access during that time. Based on the results, they assign the package a failure rating.
If children can access three doses within the unit dose blister pack, the package is rated F=4, meaning that it protects up to four product exposures. If they can access only two doses, it's rated F=3. For cannabis, packaging must be rated F=1, meaning that child test subjects, on average, weren't able to access any of the product. Other packages such as bottles and pouches are pass/fail, meaning if opened, the package is considered a failure.
On the flipside, seniors need to be able to easily access their medications and, like children, they may have limited dexterity. Using a similar test method, researchers give senior participants five minutes to open and reclose the test packaging successfully. Five minutes may seem like a long time — and a frustrating product experience — so researchers follow up with a second, one-minute test period. All this testing results in a compliance certificate for the package tested.
The CPSC requires that every package design meets their standards, and you — as the product manufacturer — must have documentation of that compliance for cannabis regulators. This documentation originates from an ASTM-certified third-party testing agency and is provided to you by your packaging supplier.
Design Concepts for CR Package Engineering
Package engineers use a host of techniques to keep kids protected. Most techniques are a two-step process that takes advantage of children's lack of dexterity or employ a special "trick" feature for opening the package.
Avoiding visual clues about how to open a package — such as large arrows pointing to safety release features — helps prevent child access. Instead of visual cues, it's better to rely on directions that only adults can understand, such as text (e.g., "pull here"). Similar adults-only features include the size of packaging and its shape. Adults have larger hands than small children, so simply increasing the size of the package prohibits access. Two-step opening processes — like push-and-turn lids — protect children too, while still allowing adults easy access.
Types of Cannabis Packaging
The wide array of cannabis products on the market require a wide variety of packaging options. Flower, concentrates, vape cartridges, gummies, drinks, powdered drink mixes, capsules, baked goods — all these products create special concerns for protecting not only children but also product freshness and integrity. In turn, package engineers have created diverse designs that not only offer protection but also create opportunities for distinctive branding.
Bottles and Jars
Push-and-turn bottles are an industry favorite for flower and edible packaging. Though some manufacturers object to Tylenol-style bottles based on their aesthetics, bottles are a quick, easy solution because they're available as stock packaging. Consumers are familiar with the opening feature, and the bottles — while not the most attractive choice — provide good protection.
No packaging solution is ever fully "child-proof." That's why we refer to packages as "child-resistant". Attentive adults are always the first line of defense for children.
Pouches
Pouches are a good, minimalistic solution, especially for single-serving products. They offer great protection from humidity when made from the right materials and, when designed for child-resistance, easily meet compliance requirements.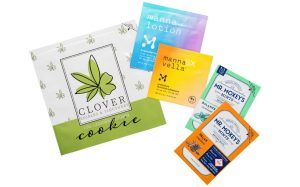 AssurPack's AssurPouch® features a tear-resistant foil. The package seems difficult to open at first, but folding the corner of the pouch exposes a notch that makes tearing the foil simple and easy. No scissors are required to open this package. The minimalist design is environmentally friendly, yet gives you plenty of surface area for branding and warning labels. Perfect for edible packaging, the AssurPouch® is CPSC-certified for compliance in all cannabis markets.
Blister Packs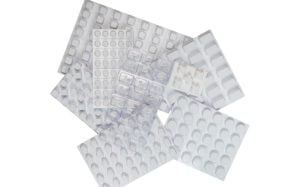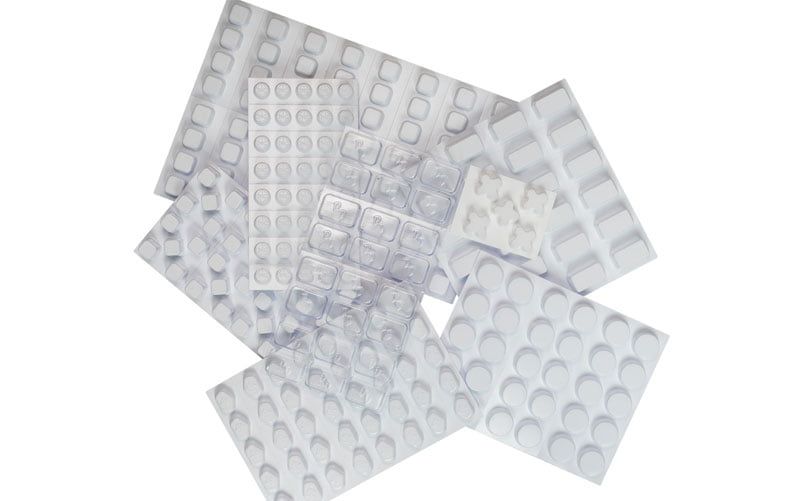 Blister packs are an excellent choice for edible packaging because they preserve freshness while also defining a product serving. Yet traditional blister packs fail to prevent child access; other design features are needed.
The AssurCard® from AssurPack® uses a patented, two-step opening process to access the product. First, consumers push a tab on one side of the package. Then, they use the exposed tab to peel back the protective layer from the other side. AssurCard's mechanism earned a F=1 rating. Each dose has its own child-resistant feature, making this the most compliant and protective package on the market. It's also a great, child-resistant solution for vape cartridge packaging and pre-rolls, and has the advantage of easily going on a peg display.
AssurCard® packaging can double as the mold for edible products too. Our clients can use a direct-pour method for filling their blisters either by hand or with a depositor machine for faster production. By using AssurCard® as the mold for their products, they save on payroll costs and equipment expenditures.
Child-Resistant Cartons and Boxes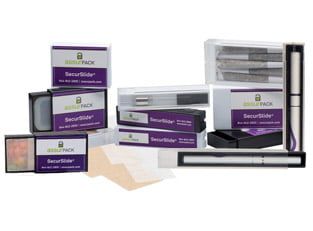 Cartons and boxes represent a very broad category of packaging, varying widely in size and function, and utilizing materials ranging from paperboard to plastic. Until recently, child-resistant boxes were uncommon because they didn't suit the needs of pharmaceutical products. Cannabis medicines, however, benefit from the versatility of boxes, and work especially well for companies who need solutions for infused candies, vape cartridge packaging, or pre-roll packaging.
AssurPack® offers two types of boxes: the SecurSlide® and the MarBox-CR.® The SecurSlide,® which is now available in a bioplastic formulation, utilizes a pinch-and-slide design. Consumers squeeze the back of the box to an inner drawer which slides out to dispense the product. The MarBox-CR® uses a flip-top opening similar to a typical cigarette box. Its polypropylene enclosure uses a living hinge and a deadbolt-style closure that locks the flip-top closed when not in use. Both the MarBox-CR® and the SecurSlide® can be configured with custom inserts and parchment or wax paper liners to accommodate not only pre-rolls and vape cartridges but also mints, tablets, and candies.
Clamshells
Clamshells are a versatile packaging style found everywhere from fast food to pharmaceuticals. Much like a clam, clamshells open into two similarly sized body panels which can be vacuum-molded to fit the enclosed product.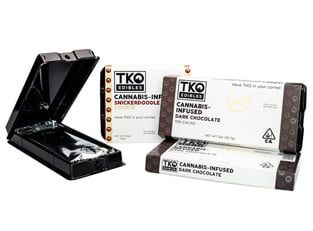 Usually, a clamshell is not a suitable format for child-resistant packaging. Their lightweight closure often pops open when the clam is twisted or pulled. The AssurPack® AssurClam,® however, is the world's first child-resistant, reclosable clamshell. It solves the problem of accidental opening with a sturdy, double-wall design and a tab that snaps closed. This makes AssurClam® perfect for multi-serving chocolate bars, but it's also a great solution for other products. Custom paperboard or plastic inserts can be designed to fit your product for maximum display and secure shipping, and AssurClam's transparent recycled polyethylene terephthalate (PET) is great for showing off your vape cartridges, oil dispensers, or edibles.
Compliance and Child-Resistant Packaging
Regulators are right to demand that cannabis products be packaged safely, and it's the responsibility of the product manufacturer to prove it. At AssurPack,® we provide all the documentation you need to show regulators that your packaging meets CPSC standards. All of our packaging meets the highest standards for child-resistant packaging.
Ready to find out which AssurPack® products fit your product and budget? Contact a representative today. They can help you determine your compliance needs and find an attractive packaging solution that your customers will love.