5 Ways to Customize Your Cannabis Packaging: Stand Out with Style
August 3, 2023
In the rapidly growing cannabis industry, finding ways to differentiate your brand and leave a lasting impression on customers is essential. One effective strategy is to customize your cannabis packaging. By tailoring your packaging to reflect your brand's unique identity, you can attract attention, build brand loyalty, and enhance the overall customer experience. This article will explore five exciting ways to customize cannabis packaging to help your products stand out.
Embrace Creative Design and Branding
The first step in customizing cannabis packaging is to develop a creative design and branding strategy. Your packaging should reflect your brand's personality and values while complying with legal requirements. Consider colors, typography, and imagery that align with your brand's identity.
For example, if your brand is known for its playful and energetic vibe, you might choose vibrant colors and bold typography. On the other hand, if you want to convey a more sophisticated and luxurious image, you could opt for sleek and minimalistic designs.
Remember to include your brand logo prominently on the packaging, as it visually represents your company. Creating a solid and consistent brand identity can establish brand recognition and make a memorable impression on consumers.
Work with us to see what custom solutions we can tailor to your brand!
Use Sustainable Materials
As environmental consciousness grows, consumers are increasingly favoring eco-friendly products. By using sustainable materials for your cannabis packaging, you can showcase your commitment to sustainability while appealing to environmentally conscious customers.
AssurPack® is working to make our packaging with Post-Consumer Recycled Resin, a material made from recycled plastics like water bottles. This material has been shown to significantly reduces the carbon footprint of your packaging.
Prominently display the eco-friendly aspects of your packaging, such as recyclable symbols or "made from recycled materials" labels. Doing this builds your brand's credibility and commitment to environmental causes and to consumers who appreciate businesses that prioritize sustainability.
Consider Secondary Packaging
Make your cannabis packaging real estate work for your brand. Often the packaging will need to have regulatory stickers covering it or even just the cultivar sticker to indicate what it is. Still, you can take that a step further by utilizing secondary packaging.
Whether it's sleeves, boxes, or blister packs, we can work with you to develop packaging that allows you to put regulatory labels on with ample space to showcase your branding. Typically, regulatory labeling consists of strain name, packaging date, use-by date, cannabinoid content, and weighting. All of this must be on your packaging before considering branding elements.
Personalize Packaging for Different Product Lines
Another effective way to customize your cannabis packaging is by tailoring it to product lines. This approach allows you to target specific customer preferences and create a more personalized experience.
For instance, you can design packaging with two different formats for consumers. For example, our SecurSlide MatchBox 4 works ideally well as a pre-roll container, but you can take it another step and work with us to make a custom PE insert so that you can have a different product line of dog walkers.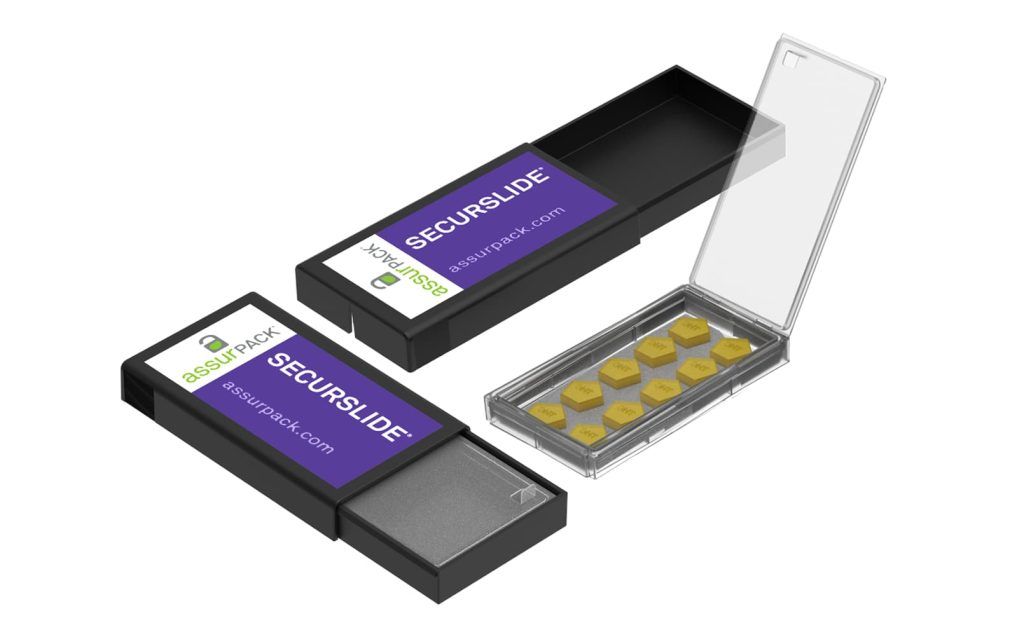 Personalizing your packaging not only adds a touch of exclusivity but also demonstrates your understanding of your customers' different needs and preferences. This approach creates a sense of familiarity and loyalty between your brand and consumers. To go one step beyond customers, utilize single-serve packaging to leverage samples to attract retailers.
Utilize Premium Finishes and Effects
Consider utilizing special finishes and effects to create a truly eye-catching and premium packaging experience. These can elevate the perceived value of your products and make them more appealing to customers.
Options like embossing, debossing, foil stamping, or spot UV coatings can add a tactile and visual appeal to your packaging. They create a sense of quality that resonates with customers seeking a premium cannabis experience.
For example, a cannabis brand targeting the luxury market might stamp gold foil on its packaging to exude elegance and sophistication. On the other hand, a brand targeting a more youthful and art-focused audience would brand its packaging with poppy colors and graphics.
By investing in premium finishes and effects, you can communicate the value of your products and leave a lasting impression on customers, positioning your brand as a leader in the premium product category. AssurPack® is here to help.
Conclusion
The goal of your packaging should be to showcase your brand and cannabis in the best way possible while preserving and protecting your product. AssurPack®'s team has a wealth of technical packaging experience and specialists in different packaging areas.
Working with us is a partnership to propel your brand into new opportunities and build creative solutions. AssurPack® is dedicated to showcasing your vision in the best way we can.